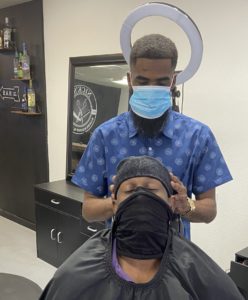 Hot Towel & Scalp massage Included with every haircut
First visit. Elijah was able to fit me in on a Monday when most shops are closed. Relaxed environment. Fair price and good service. Not too many places in the Valley like this.
As a Black man living in the Desert, when you can get your basic necessities taken care of, life is good; think Maslow's hierarchy of needs! I recently discovered and visited Nick's Barbershop and Lounge on San Pablo. Great experience! Wonderful atmosphere! And very professional. Nick and Elijah are among two of the most personable barbers I have ever met! I'm 65 and have had a lot of haircuts! I had the privilege of receiving my haircut from Elijah. Elijah was great, engaging and attentive! The man has real skills with clippers! He is very detailed oriented and takes great pride in his work! I highly recommend him if you are in the neighborhood looking for a precision cut! I will definitely return!
Very clean shop. Took my boys to get their hair cut and Nick and the other barber asked the boys alot of questions to make sure they got the cut they wanted. The best part they are open on Sundays, not to many barbershop open on Sundays! Thanks Nick and to your team!
I visited from out of town and stumbled upon Nick's. The place is fresh and brand new. Nick took care of my hair and it looks super fresh! Not only was the cut good, but Nick was super friendly and nice. Trying to find a good place to get a haircut during this pandemic is hard, but Nick's spot really made me feel comfortable. I'd highly recommend.